Ah, December.
My daughter's Advent book says that this month's name is derived from the Latin word decem, meaning ten, because it was originally the tenth month of the year in the calendar of Romulus.
But I've got another theory. Could it also be because everything – everything! – in the month of December is dialed all the way up to a ten? The joy! The meltdowns. The grief. The love and the pain and the regret. The absolute delight! The resentment. The hope! It all feels pressing, impossible to escape, pregnant with purpose and wonder and memories of the many things we got right and the many things we didn't, or perhaps never will.
This is the month in which, for many of us, the daily inner-workings of the home multiply into every corner possible: more groceries to buy (can you bring those walnuts again?), more lists to make (move card table to basement), more reminders to set (don't forget to pick up uncle adam from airport), more questions to answer (henry's a size 4 in pjs – thank you for thinking of him!). There are messes to clean and projects to manage and the little ones are tugging at your pants in need of scissors to wrap their sweet, beloved (messy/oversized/sticky/oddly-shaped and completely impractical) sculpture concocted out of of Elmer's and cotton balls. Did I mention the messes to clean?
The labor, of course, is largely invisible. Stockings stuffed in the dim of the dark, gifts wrapped long into the night. Notes sent, neighbors thanked, workers tipped, kids excited, house decorated, families welcomed, fridge filled, recipes found, menus planned, seating moved, music played, candles lit, stories read, traditions kept.
Year after year, like magic.
Until one day.
In just a few short years, our frenzy and frantic will vanish right up the chimney and we'll be left with a few drifting hours. Our hands won't be as full, our table won't be as crowded, our stockings will hang limp, and we'll give anything to sweep up the crazed pine needle mess, to wash icing out of her hair once more, to hide gold coins in his sneakers tonight.
We know we'd do it all over again and again, a million times over. The hustle, the bustle (yes, even the glitter). Someday, far sooner than we'd like, we'll finally catch our breath and we'll wonder: Did any of it mean anything – to anyone? 
Will they remember? We can't yet know.
The whispered work, the invisible labor, the limited resources – the faith that it will all be worth it in the end. Every sleepless thought: could we have done more, should we have stressed less, would it have meant more? Perhaps it's these secret wonderings that make this season more sacred, more human, more divine.
While mortals sleep the angels keep their watch of wondering love…
After all, if there's anything Christmas reminds us, it's this: our king-sized expectations can, and must, fit into a lowly manger.
I am thinking of this tonight, as I wrap a Slinky in butcher paper, as I tie it carefully with a quiet burlap bow, knowing it will soon be ripped to shreds, paper discarded, ribbon saved for one of Bee's monumental craft projects come Jan 1.
The wrapping, the containing, the concealing.
The waiting, like a swaddled secret.
The hopes and fears of all the years
Are met in thee tonight.
This morning, I read a few simple words in Luke. Just one line. Just a small part of a bigger birth story, a simple pause that follows a long and grueling labor of love and light, of hope and humanity: "Mary kept all these things to herself, holding them dear, deep within herself."
Keeping all these things. Holding them dear. Deep within ourselves.
That's the trick, isn't it? The remembering.
Even if no one else does. Even with fuller-than-full to-do lists. Even amidst limp stockings, empty chairs, grieving hearts. Even when the budget doesn't allow for merriment, when family tensions are running high, when this year just isn't what you wanted – or needed – it to be.
Holding it dear.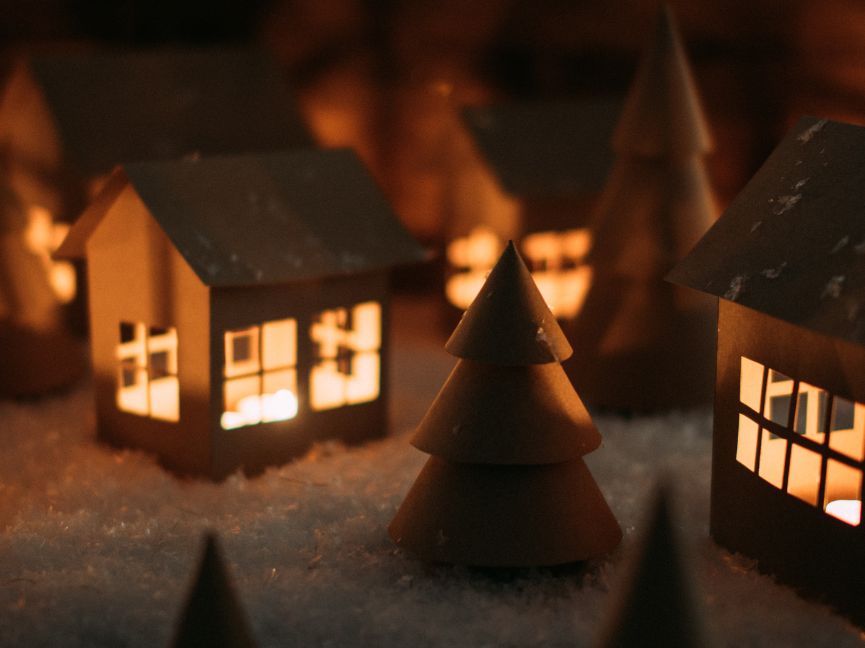 Counting every year, carrying every memory, tucking them all inside – to keep, and to keep close.
To remember delight, at 10, when you shrieked at the red Schwinn under your Fraser fir. To remember love, at 20, when he held the mistletoe over your front door. To remember joy, at 30, as your bleary-eyed toddler twirls to the Nutcracker suite in his Batman pajamas. To remember hope, at 40, when the whole congregation swells into the song of Cantique de Noël. To know peace, at 50, 60, 99 – when you remember it all.
For every decade, and every decade next, to be reminded of the glorious truth: When we give much away, we keep far, far more.
Merry Decembers to you, friends.
xoxo,
e.